Wow! I am in awe of all the wonderful posts that were shared in last week's Finishing Strong link-up. It was so difficult to narrow my choices down to just three to highlight.
I am delighted that families homeschooling middle and high school age students are coming together and finding inspiration in one another. That's has been the goal of Finishing Strong since its inception. Thank you!!
Each Wednesday, moms just like you share their best tips, encouragement, advice, and more for teaching older kids at home. Finishing Strong is hosted by me here at EvaVarga along with my friends – Heather from Blog She Wrote, Megan and Susan from Education Possible, and Heidi from Starts at Eight.
Finishing Strong Favorites
Each week, the post shared that received the most clicks is featured on all four host blogs. Here's the most popular post from last week: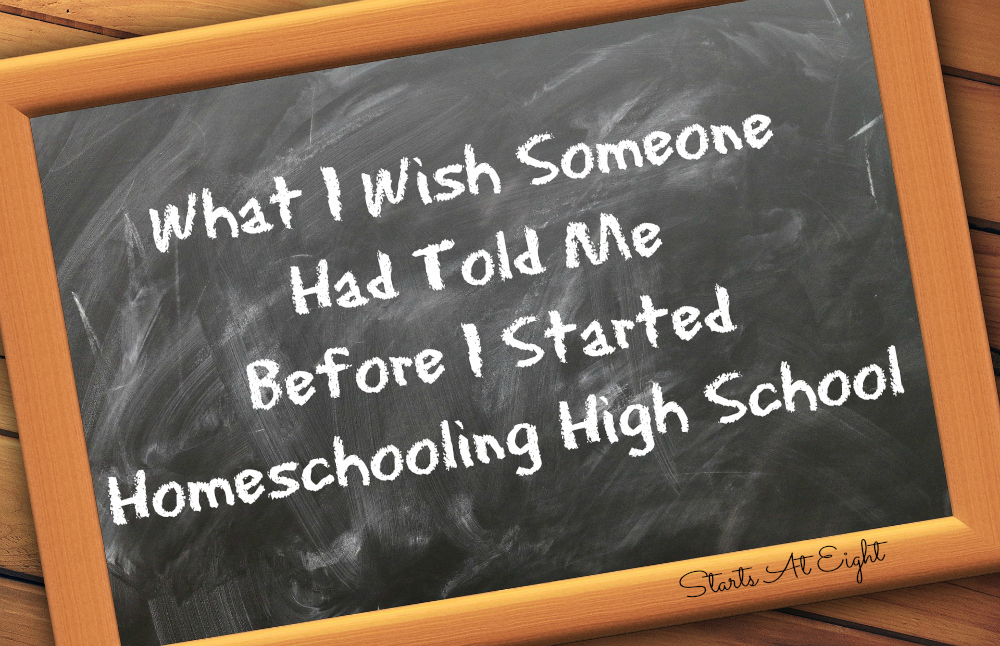 What I Wish Someone Told Me Before I Started Homeschooling High School by Heidi at Starts at Eight
When choosing posts to highlight, I look for posts that are inspiring to me as a homeschool mom with two kids in middle school. I just love that so many of the posts this past week focused on science. As you know, science is my favorite subject. Even so, it is one of the subjects that gets pushed aside in our homeschool when life gets busy.
Here are three posts I enjoyed reading last week. I've annotated each to give you a peak into what I liked about each of the three I selected.
I found it humorous that Claire at Angelicscalliwags warns us that her post, Human Biology: Reproduction, may be considered revolting. I encountered the same reactions from my students when we were engaged in our study of human anatomy. Due to time constraints, however, we didn't cover the reproductive system. It is for this reason that I chose to highlight Claire's post. I love the hands-on approach!
Another favorite post this week is from Marci at The Homeschool Scientist who shares with us the steps to Make An Electroscope to Experiment with Electrical Charges. How can we tell if an object contains electrically charged atoms? Read on to learn how to create a testing device with simple materials you have at home.
Adult skills as we refer to them in our home have always been a fun component of our homeschool. Kris, who blogs at Weird, Unsocialized Homeschoolers, shares a wonderful list of 10 Home Ec Skills Your Kids Need to Know. As she says, "There are many things on this list that I have neglected  and need to focus on during my kids' last few years at home."
Thank you for helping us to make Finishing Strong a key resource for families who are homeschooling through the middle & high school years.
What are you going to share with us this week?
Guidelines:
Link up to 3 posts from your blog. Make sure you use the exact URL to the post, not to your home page. You can add any post related to homeschooling middle and high school students. Posts unrelated to that will be removed.
Please no advertising, individual Pinterest pins, Facebook, Twitter, or other link-up links!
Grab our button to add to your post after you link it up. Each week we will be choosing our favorite posts to highlight on all 4 sites. If you were featured, we would love for you to use the "I was featured" button.
The linky will go live on each co-host's blog each Wednesday at 6am EST, and will be live until Tuesday at 11:55 pm.
Please Share!

Add our button to your post.

Were You Featured?

Grab an "I was featured" button!
Bloggers, by linking up, you may be featured on our co-hosts' social media pages or our Pinterest board. We may even select you to be featured in a future post!