---
Homeschooling is a unique experience. We can customize the education plan for each of our kiddos to celebrate their unique strengths while also building upon their academic and life skills at their own pace.
Our lifestyle choices and where we choose to live also play a major role in cultivating the educational experiences of our children. There is no perfect approach, no one-way-suits-all method to educating our children. We must all find or forge our own path. Sometimes that means taking detours along the way.
One of the things that makes our homeschool unique is that we love to travel and have been afforded the opportunity to do so by the lifestyle choices we made early on. While educating our children while traveling full time sounds appealing to me, it would never work for us as a family. We need to be close to home and to our parents who need our support. My husband's line of work also requires his physical presence.
As such, we have made travel a priority in our life. We do our best to experience other cultures while also learning more about our own nation's rich history and geography.
Some time ago, I shared with you a series of posts I wrote highlighting our experiences in Italy, Falling in Love with Italy. Next week, I will be taking part in a 5-day hopscotch to bring you along on our journey through the Secrets of the Greek Islands. Come along and see what surprises we discovered along the way.
---
Finishing Strong
Welcome to Finishing Strong ~ a weekly link-up dedicated to families homeschooling middle & high school kids. Each Wednesday, moms just like you share their best tips, encouragement, advice, and more for teaching older kids at home.
Finishing Strong is hosted by me here at EvaVarga along with my friends – Heather from Blog She Wrote, Megan and Susan from Education Possible, and Heidi from Starts at Eight. I know you will find the posts that have been shared with us inspiring!
Betsy's post, Choosing Curriculum with College in Mind, was the most clicked post shared last week and it is no surprise as it coincides with the recent publication of her book, Homeschooling with College in Mind which I reviewed just the other day.
Learn more about Betsy's book in my review, Homeschooling High School with College in Mind
My favorite post this past week was Make STEM Connections with Gravity Jousting from Heather at Blog She Wrote. The PITSCO science kit she reviews looks fabulous and I am strongly considering purchasing it. I know my kids would love it!
For the past few years, I have coordinated a living history day for local students to showcase their interests and talents. Each year, my daughter has selected a woman who made an impact during WWII and I have thereby discovered her fascination with this historical period. I've thereby selected Mother of 3's 35 More World War II Books for Children.
Check out my post Bringing History to Life with Living History Presentations for tips and ideas for coordinating a living history day in your area.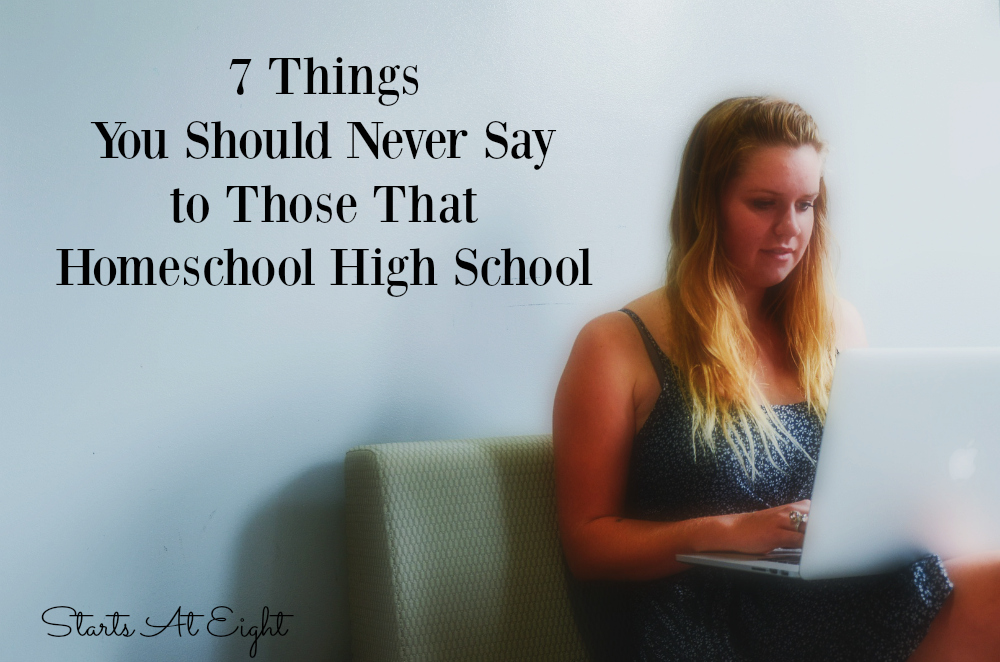 Now that my daughter is swimming with the high school swim team and we are meeting new people, we are hearing these comments more often. Heidi's post, Things You Should Never Say to Those That Homeschool High School, made me chuckle.
Homeschooling high school can be done! In my post, High School Forecasting, I share how we are coordinating CLEP exams and dual-enrollment coursework.
@ @ @
As always, thank you for helping us to make Finishing Strong a key resource for families who are homeschooling through the middle & high school years.
What are you going to share with us this week?
Guidelines:
Link up to 3 posts from your blog. Make sure you use the exact URL to the post, not to your home page. You can add any post related to homeschooling middle and high school students. Posts unrelated to that will be removed.
Please no advertising, individual Pinterest pins, Facebook, Twitter, or other link-up links!
Grab our button to add to your post after you link it up. Each week we will be choosing our favorite posts to highlight on all 4 sites. If you were featured, we would love for you to use the "I was featured" button.
The linky will go live on each co-host's blog each Wednesday at 6am EST, and will be live until Tuesday at 11:55 pm.
Please Share!

Add our button to your post.

Were You Featured?

Grab an "I was featured" button!
---